Truer Stories.
Deeper Connections.
Abundant Lives.
Form deep relationships, discover meaning and live with integrated creativity.
Reflections
Three-minute reflections to pause, breathe, and refocus.
First, select how you feel today
Now that you have identified the emotional state you find yourself in, choose a reflection resource from our collection of art, music, prose, poetry and meditations.
Books
Curt speaks to the innermost desires of our hearts and souls, bringing together an understanding of interpersonal neurobiology (IPNB) and a Christian view of what it means to be human — inviting us to engage more authentically with our own stories and relationships. Only then can we feel truly known and connected and live into the meaningful reality we desire to create.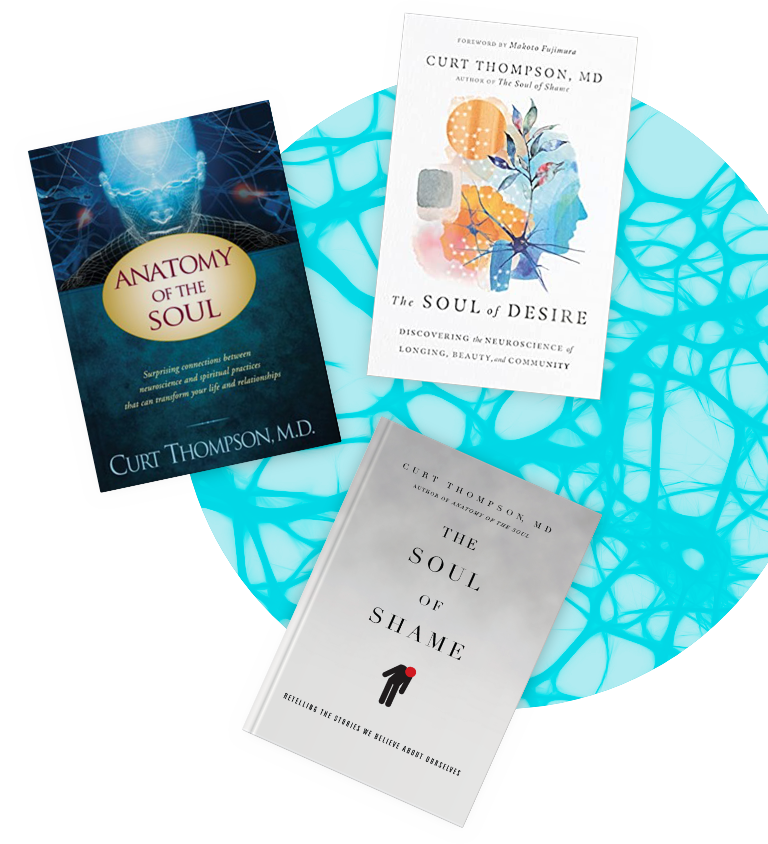 Podcast
In a world in which we experience such deep desire and such great grief, we find coursing through all of it our unquenchable longing to be known. But we don't want to stop there, for we know in our bones and blood that we desire to be known in order for us to create and curate beauty and goodness in the world — together with our friends and, in our best moments, even our enemies — in every domain of life that we occupy.
With the Being Known Podcast, we will discover what it means to be truly known, exploring the intersection of interpersonal neurobiology (IPNB) and Christian spiritual formation.
We believe that God's good creation, in the language of neuroscience, is revealing in fresh ways what God has intended in Jesus from the beginning — that we are a people made for joy, for whom repairing ruptures is healing for our souls and our brains, and who are destined to create and become outposts of beauty and goodness, outposts of hope and healing for a world in which we experience fracture and disintegration far too often.
"Curt Thomson's advice and observations have directly impacted my art and my life. His work remains indispensable in our journey toward Culture Care."
"Curt's work has transformed the way I live, work and relate to God. His framework around community, spiritual practices, vulnerability and shame inform my daily life. If you are new to Curt's work, welcome. Now be prepared to integrate your heart, soul and mind with how you relate to yourself and others."
"Very few people have made a greater difference in how I aspire to think and live—and dare I say, pray—than Curt Thompson. In his work and in person, he combines boundless intellectual capacity and curiosity with deep presence and compassion. Knowing him is one of the great gifts of my life, as is any chance I get to introduce him to others."
"Dr. Thompson has profoundly impacted my life and the way I lead. His probing questions and insight into shame and vulnerability have drawn me out and into a more connected way of life. It is because of Curt I now do everything in teams and I will never go back."
"Curt Thompson is a wise, kind and generous guide through the foul thicket of shame....Curt weaves biblical wisdom, neuroscience research and powerful stories into a covering that doesn't hide our shame but enables us to name what is keeping us from freedom and wonder."
"Curt is a gift to a generation looking for hope and healing. He pairs his clinical lens with faith, with keen insights that provide breakthrough for those who desperately need it. I'm forever a champion of his voice and advocate of his work!"
"Psychiatrist and author Curt Thompson provides a framework for understanding science and spirituality. Drawing truth from ancient biblical wisdom and neuroscience research, he traces the healing work of Jesus through the pathways of the mind and heart. His work is accessible and full of hope, outlining practices that help us to heal from wounds of shame and brokenness that we may learn how to flourish in love and freedom."