Speaking
The Soul of Desire: Discovering the Neuroscience of Longing, Beauty, and Community – a three part webinar series
ONLINE -
Wednesdays - October 27, November 3, and November 10
October 27, 2021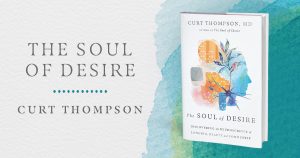 Join board-certified psychiatrist Curt Thompson as he explores our longings and our desire to be known based on content from his new book The Soul of Desire: Discovering the Neuroscience of Longing, Beauty, and Community  from IVP. This fundamental yearning manifests itself in our deep need to make things of beauty, revealing who we are to others. Desire and beauty go hand in hand.
Both our craving to be known and our ability to create beauty have been marred by trauma and shame, collapsing our imagination for what God has for us and blinding us to the possibility that beauty could ever emerge from our ashes. Drawing on his work in interpersonal neurobiology and clinical practice, Thompson presents a powerful picture of the capacity of the believing community to reshape our imaginations while holding our desires and griefs together.
This exciting digital experience will include three, 1-hour webinars, with 45 minutes of live teaching with Curt, followed by 15 minutes of Q&A.
Space is limited for this event, so make sure to reserve your seat!
Wednesday, October 27, 2021 7pm Eastern/6:00pm Central
Wednesday, November 3, 2021 7pm Eastern/6:00pm Central
Wednesday, November 10, 2021 7pm Eastern/6:00pm Central